This week, Kentucky families won a victory when a circuit court reversed a decision that had prevented a proposed birth center in Elizabethtown from moving forward.  The original denial was based on opposition from three local hospitals that currently hold the monopoly on birth-related services.  That monopoly exists throughout Kentucky, with zero birth centers in the state and only a handful of midwives who are legally permitted to attend births outside of hospitals—and in-hospital midwives and their clients usually restricted to what supervising and "collaborating" physicians will allow.
In 2009, Certified Nurse Midwife Mary Carol Akers began the process of opening​ the Visitation Birth and Family Wellness birth center.  She has spent a quarter of a million dollars on that effort, with the support of hundreds of Kentucky families.  At the Certificate of Need (CON) hearing in 2013, about a dozen people showed up each day for four days of testimony—something the hearing officer said she'd never seen before. Under Kentucky law, new health care facilities must prove that there is an unmet need for their services to secure a certificate from the state that allows them to move forward.
The hearing officer agreed with the hospitals that there was no need for a birth center and denied the Certificate of Need—effectively stopping the process.  Ms. Akers appealed that denial, and I am happy to say that Franklin County Circuit Court Judge J. Phillip Shepherd got it right with his decision to reverse it.
You can download a PDF of the decision here, or read on for my take on what was most interesting out of it, with some juicy language from Judge Shepherd.
It's important to remember that in appeals, like this one, the court is not weighing whether or not the "best" decision was made, but whether the law was followed in doing so.  The circuit court's job here wasn't to agree or disagree with the decision that was made, but to determine whether the decision was reached properly.
Did the hospitals have the right to block the birth center in the first place?
Part of the discussion is whether the local hospitals are "affected parties," as they claim to be, because only "affected parties" have standing to challenge an applicant for the Certificate of Need.  The gist of the hospitals' argument is that they already provide "similar" prenatal, labor and delivery, and postpartum services—albeit through what was termed "different methods."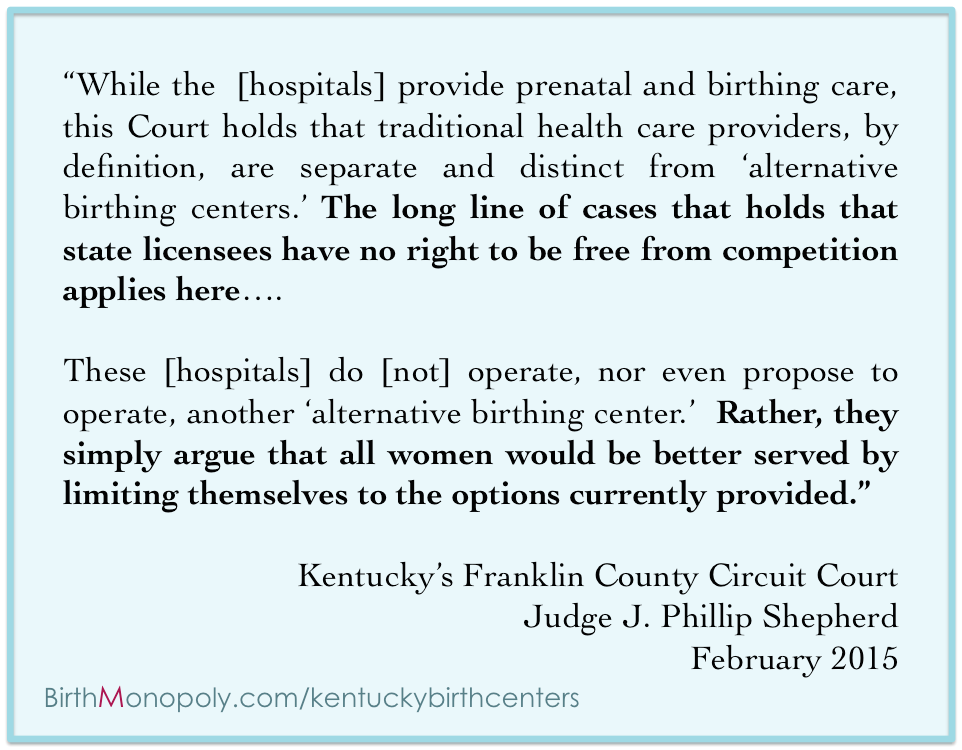 No, they did not have the right, said the court.  They aren't 'affected parties' because they aren't birth centers, plain and simple.  None of the hospitals are operating under a CON and licensure for alternative birth centers.  They are a different animal, with different—and overlapping—services.
"The law in Kentucky has long been established that a party operating a business under a license from the state has 'no right to be free from competition,'" ​the decision said.​ The Certificate of Need process, for medical providers, is one exception to that rule.  But it's a process that's meant to apply providers of the same services​, in the same category​.
"Here, the question is whether health care providers who do not operate an 'alternative birthing center' have standing to protest an applicant for approval to operate such a facility.  While the ​[hospitals] provide prenatal and birthing care, this Court holds that traditional health care providers, by definition, are separate and distinct from 'alternative birthing centers.' The long line of cases that holds that state licensees have no right to be free from competition applies here.  The CON statute… allows competitors to protest only when they are 'affected parties.'"  And then he says: "These protestors do [not] operate, nor even propose to operate, another 'alternative birthing center.'  Rather, they simply argue that all women would be better served by limiting themselves to the options currently provided."
And here's where it really starts getting good.
Are hospital birth ​services ​and birth center birth ​services ​the same thing?
​Nope, said Judge Shepherd.  ​"The Court is persuaded by the argument advanced by the Petitioner, specifically, that a hospital-based birth experience is not enough like an alternative birth experience to be considered similar.  While there may be some overlap in the services provided, the varying methods and settings have significant differences and it is a stretch to claim that traditional hospitals providing only hospital-based birthing environments offer services similar to an [alternative birth center]."  (He gets it; he really gets it!)
He goes on to say: "The presence of a mid-wife does not transform a hospital into an alternative birth center.  While the hospitals claim to offer similar services, the fact is that an attempt to honor the birth plans of pregnant women and allow for low-intervention births cannot truly be equated with the services provided by an alternative birth center.  At an alternative birth center the mother is provided with an alternative birth experience that is very different from the services and care and setting a hospital can provide—even one attempting to honor the birth plan of the mother….. Furthermore, unlike the hospitals, an alternative birthing center does not provide traditional delivery services and grant a low intervention birth plan exception for some of the women at their request.  An Alternative Birth Center can only provide alternative birthing services for women with uncomplicated pregnancies."
The circuit court said that opposition's argument "essentially boils down to the conclusion that all women would be better served by having their babies in traditional birthing facilities operated by hospitals or other licensed providers.  Under the Cabinet's final ruling, a woman who wants the services of an alternative birth center (as defined in Kentucky administrative regulations) is simply out of luck.  She can go to another state."
Kentucky women don't want to go to another state. ​And we shouldn't have to when we can have high-quality, low-cost, respectful maternity care right here.  All it will take is a little birth-monopoly-busting.
Susan Jenkins is a lawyer who has represented birth centers, including the American Association of Birth Centers, for many years.  She called this a "David vs. Goliath victory against powerful hospital interests, based on a careful and well-reasoned analysis of Kentucky's Certificate of Need law from both a legal and a policy perspective." And: "In finding that hospitals do not meet the state legal standards to qualify as 'affected parties,' the court captured the essence of the differences between the 'hospital-medical model of care' versus the 'birth center-midwife model of care.'"
This is a great victory, not only for birth centers but, more important, for the women and families of Kentucky, who will no longer be barred from access to birth centers by the anti-competitive activities of hospitals.  If this decision is appealed, consumers must unite to make their voices heard in the legislature and the governor's office, as well as in the courts.  Let's make sure this victory sticks!
If you'd like to get involved–​and you should!–​join up with ​the birth center​​'s Facebook page here.
Feb. 27, 2015 update: Comment from Mary Carol Akers
"I thank God, and I believe my 25 years as an active duty Army nurse informs my willingness to do the right thing even when it is the difficult or "hard right" thing to do.  I assert strategic planning, tenacious yet flexible application of the plan, and continual communication of the goals of the campaign are essential to create change.  The advocacy for the rights and autonomy of women, the belief in the physiology of normal birth and in the principle of freedom and justice in the United States of America (which I served for a quarter of a century) are the hallmarks of the ethos that draws me to this cause.
"I have always prayed to God to let me be His hands in the world.  It is not my doing, but His work through me…  My years of service to Him and to our country gave me the experience I needed to get this far.  We are not finished.  There is much to do still, but we are making headway at last!"
2017 Update:
After Ms. Aker's successful appeal, the three opposing hospitals appealed the Circuit Court's findings. In September 2017, the Court of Appeals ruled 2 to 1 to reverse the Circuit Court ruling, reinstating the Cabinet's denial of a CON. The court ruled that the birth center did not prove the need for service, since the need was adequately met by the appellant hospitals. It further ruled that the projections of patient volume and financial figures were not correct. The dissenting judge noted that projections of patient volume and financial figures are irrelevant to the CON process and that the alternative birth center offers services separate and distinct from those offered by a hospital.
This ruling came eight years after Ms. Akers first began the process of attempting to open a birth center. Having already spent hundreds of thousands of dollars on legal fees, she was not in a position to continue to appeal the ruling. Instead, she opted for retirement and left the state of Kentucky.
The hospitals, who clearly have greater financial and legal resources than an individual entrepreneur, were able to use the Certificate of Need process to unfairly block their perceived competition and to protect their monopoly on birth options in the area.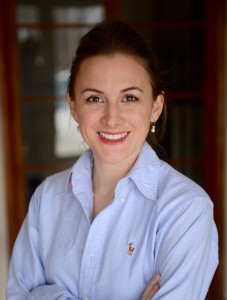 A former communications strategist at a top public affairs firm in Baltimore, Maryland, Cristen Pascucci is the founder of Birth Monopoly, co-creator of the Exposing the Silence Project, and, since 2012, vice president of the national consumer advocacy organization Improving Birth.  In that time, she has run an emergency hotline for women facing threats to their legal rights in childbirth, created a viral consumer campaign to "Break the Silence" on trauma and abuse in childbirth, and helped put the maternity care crisis in national media.  Today, she is a leading voice for women giving birth, speaking around the country and consulting privately for consumers and professionals on issues related to birth rights and options. 
Consult with Cristen | Resources + more Articles
Free handouts + monthly-ish updates from Birth Monopoly: click here